More Beyonce
The leak comes two days ahead of the intended release of the long-awaited Renaissance and some the biggest Beyoncé fans the 'Beyhive' are actively encouraging people not to purchase, download or listen to the leak before the release date, and report anyone who is.
Members of the Beyhive' have posted alerts and instructions to social media, encouraging other members not to listen to the leak and to 'sting' any would-be leakers.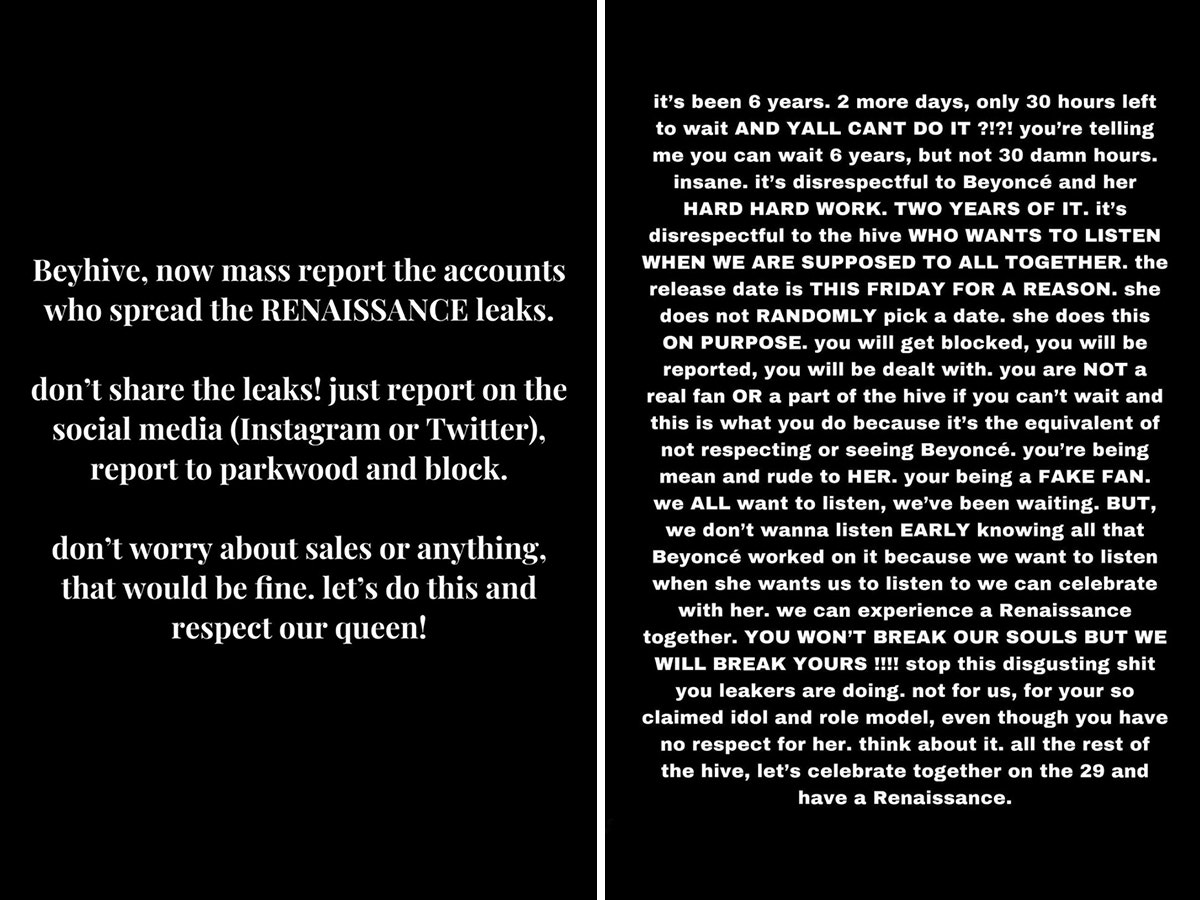 Don't miss a beat with our FREE daily newsletter
Renaissance will officially drop on July 29th. The album is currently available to pre-order with a box set beginning to ship upon the album's release date. The drop of the tracklist follows Beyoncé's recent arrival on TikTok, Queen Bey's first upload was an artfully composed compilation of user-generated content set to the sounds of her latest single Break My Soul.
The singer used the post to thank fans for their ongoing support. Making specific reference to the Beyoncé-inspired 'wiggle' trend. Beyoncé wrote in the caption "Seeing y'all release the wiggle made me so happy!" adding a brief thank you message "Thank you so much for all the love for BREAK MY SOUL! – Love B".
The long-awaited arrival of Beyoncé to TikTok also means the arrival of her entire music catalogue on the app, meaning that users can now freely, and legally make as much Beyonce-inspired content as they wish. We anticipate a whole lot of Renaissance-related posts when the record drops.
It's also expected that Renaissance will land with an extravagant, visual component too, accompanying the stunning artwork, her debut on TikTok seems to be perfectly primed for that.
From Lemonade premiering through HBO, Homecoming landing as a part of a $60 million dollar deal with Netflix and Black Is King with Disney, there's no doubt that Renaissance will follow a similar path.
Beyoncé has been kept very busy since the release of releasing Lemonade in 2016; she released a collaborative album with Jay-Z in 2018 under their family moniker, The Carters, titled Everything Is Love, and headlined Coachella in 2019, which landed alongside a documentary and live album HOMECOMING.
Then followed 2020's Black Is King, a visual album that was released in support of and alongside 2019s The Lion King: The Gift, which featured collaborators Childish Gambino, Kendrick Lamar, Pharrell and more.
She also performed at this year's controversial Academy Awards after soundtracking King Richard via Be Alive.